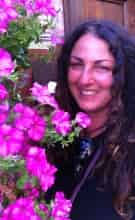 44,
history of art, archeology, food and wine.
INSIDE ANCIENT ROME
Colosseum, Roman Forum and Palatine Hill Tour
The following fields for OPEN TOUR: language, departure time, prices, discount and earphones have different conditions.
Description
I will help you to discover how it was like to spend a day in the Flavian Amphitheatre at the time of Roman Empire. You will get to know history, architecture and secrets of the COLOSSEUM. I will show you what happened in a typical, ordinary day outside and inside the Arena. The visit continues in the ROMAN FORUM the heart of ancient Rome. A famous printed guide defines the Roman Forum as "an impressive (if rather confusing) sprawl of ruins". You will forget about "confusion" thanks to a guided tour with me. I'll give you the key for a complete understanding of this amazing, unforgettable place. Visiting the PALATINE HILL with me you will discover a part of Rome that more than any other is closely associated with legends of Rome's foundation. My tour includes a captivating visit and explanation of the IMPERIAL FORA (Rome of the Caesars). Children are very welcome!! More info
Sites included
Colosseum (inside)
Colosseum Valley
Arch of Constantine
Arch of Titus
Temple of Venus and Rome
Basilica of Constantine and Maxentius
Temple of Romulus
Temple of Antonino and Faustina
Regia
Temple of Vesta
House of the Vestal virgins
Temple of Castor and Pollux
Temple of Julius Caesar
Curia
Basilica Emilia
Temple of Vespasian
Temple of Concord
Temple of Saturn
Basilica Julia
Rostra
Arch of Septimius Severus Imperial Fora area: Trajan's Markets
Trajan Column
Forum of Caesar
Forum of Augustus
Forum of Nerva.
Entrance tickets are NOT included in the booking, unless it is made explicit in under the heading "Services included". For some sites booking is obligatory. Consult Ticket Info for further information.
Departure times
08:30
09:00
09:30
10:00
10:30
11:00
11:30
12:00
12:30
13:00
13:30
14:00
14:30
15:00
15:30
Prices
From 1 to 5 people: €185.00
From 6 to 10 people: €200.00
From 11 to 15 people: €230.00
Earphones
Your guide advises the use of earphones for a minimum of 10 people
There are no reviews for this tour. Be the first to attend to it and leave a feedback.