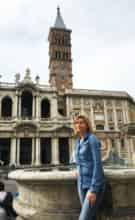 The truth and the legends of the Ancient Rome
Colosseum, Roman Forum and Palatine Hill Tour
Description
Just step down the Forum Romanum and the Ancient Rome will rise in front of you. (Via Triumph) witnessed glory and victories of the Roman Empire. On the steps of the Colosseum you will imagine yourself a spectator of gladiator contests. From the Palatine Hill you will enjoy a panoramic view to the Ancient Rome city center while standing at the very foundation of Rome. As you are enjoying the beauty of these monuments and places I will be filling up the gaps with historical facts, extracts from Roman life and culture. Welcome to Rome! More info
Sites included
Colosseum (interior
exterior) Roman Forum
Palatine hill
Entrance tickets are NOT included in the booking, unless it is made explicit in under the heading "Services included". For some sites booking is obligatory. Consult Ticket Info for further information.
Departure times
09:30
10:00
10:30
11:00
14:00
14:30
Prices
From 1 to 3 people: €140.00
From 4 to 6 people: €160.00
From 7 to 10 people: €180.00
From 11 to 15 people: €200.00
Earphones
Your guide advises the use of earphones for a minimum of 7 people
There are no reviews for this tour. Be the first to attend to it and leave a feedback.