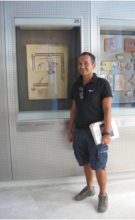 50,
art history and restoration
An unforgettable night in Rome
Rome By Night Tour
Description
The tour will start in the typical Trastevere restaurant and then continue through Campo dei Fiori and the Jewish Ghetto. We will see the area. of the Forums and the Colosseum. Then we will take a walk among the Trevi Fountain. and square. of Spain. More info
Sites included
Trastevere Field of flowers Square. Navona Forum and Colosseum area Trevi Fountain and Piazza. of Spain.
Entrance tickets are NOT included in the booking, unless it is made explicit in under the heading "Services included". For some sites booking is obligatory. Consult Ticket Info for further information.
Prices
From 1 to 5 people: €200.00
From 6 to 10 people: €240.00
From 11 to 20 people: €300.00
From 21 to 25 people: €320.00
From 26 to 30 people: €350.00
There are no reviews for this tour. Be the first to attend to it and leave a feedback.