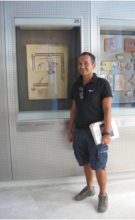 51,
art history and restoration
The Birth of the Baroque
Borghese Gallery and Gardens Guided Tour
Description
The visit will take you to know the fundamental stages of the birth of the Baroque. You will visit the Borghese Gallery with the collection of Bernini's sculptures and the section of paintings on canvas and wood. A walk along via Veneto will lead you to Barberini Square and the Palace. We will visit the rooms with the Baroque frescoes and the Pinacoteca d'Arte Antica. The visit will then end inside the church of Santa Maria della Vittoria where a sculptural complex by Bernini is preserved. More info
Sites included
Borghese Gallery (Baroque sculptures and art gallery) Gardens in front of the Palace Via Veneto Barberini Square and the Triton Fountain Barberini Palace (illustration of the external architecture and internal visit to the Palace) Visit to the salon of Pietro da Cortona and Andrea Sacchi (rooms inside Barberini Palace) Visit to the Cornaro Chapel of the Church of Santa Maria della Vittoria (Bernini's masterpiece)
Entrance tickets are NOT included in the booking, unless it is made explicit in under the heading "Services included". For some sites booking is obligatory. Consult Ticket Info for further information.
Departure times
09:00
09:30
10:00
13:30
14:00
14:30
15:00
Prices
From 1 to 4 people: €120.00
From 5 to 10 people: €150.00
From 11 to 20 people: €180.00
From 21 to 30 people: €220.00
From 31 to 40 people: €280.00
Meeting Point
Piazzale Scipione Borghese
There are no reviews for this tour. Be the first to attend to it and leave a feedback.